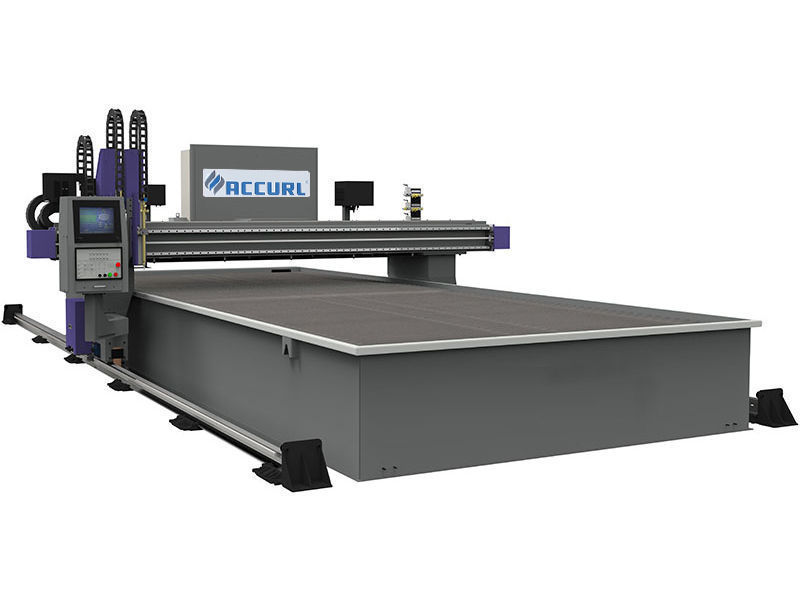 Application of cnc miller plasma cutting torch steel iron
---
Procesoraj konkoj de maŝinaro kaj elektronikaj produktoj, reklamaj signoj, metioj, fera ĝardeno, aŭtomobila fabrikado, boatkonstruaĵo, elektraj akcesoraĵoj, tabulo tranĉanta.
Cnc Plasma Deep Cutting Machine with China Huayuan Power supply cutting capacity
-63A cutting thickness: 0-8mm
-100A cutting thickness: 0-15mm
-160A cutting thickness: 0-20mm
-200A cutting thickness: 0-30mm
Cnc Plasma Deep Cutting Machine with USA Hypertherm power cutting capacity
-65A cutting thickness: 0-12mm
-85A cutting thickness: 0-16mm
-105A cutting thickness: 0-18mm
-130A cutting thickness: 0-20mm
-200A cutting thickness: 0-30mm
Features of cnc miller plasma cutting torch steel iron
---
(1) Fast cutting speed, and low cost.
(2) The cutting incision is thin and tidily and can avoid the second processing.
(3) High configuration CNC system,auto arc-striking and stable performance.
(4) The cnc plasma cutting machine can cut metal plate of advertising 3D lighting letter and flute profile letter with high cutting precision.(USA power is optional)
(5) With firm and reasonable structure,the machine is easy to operate and durable for use.
(6) Together with other advertising equipment,they form an advertisement producing line which completely solve the problem of traditional manual model
(7) The start plasma cutting machine for metal supports the standard G code router files that made by softwares such as ARTCUT, CAXA,ARTCAM and TYPE3. Converted by certain software, the plasma cutting machine can also read DXF file that out of AUTOCAD.The control system, adopting U flash disk to change the processing file, is easy and convenient to operate.
TECHNOLOGY PARAMETERS
---
Working Size: 1300X2500mm
Machine Structure: Welded with Thick-Wall Square Steel Tube
X, Y, Z Guide Rail: Hiwin 20 Square Linear Guide Way Made in Taiwan
X, Y, Z Transmission: X, Y Axis Gear Rack and Pinion, Z Axis Cylinder
X, Y, Z Driver: Fractionized Stepper Motor
CNC Control System: Beijing Start Control System with Automatic Capaci
Interface: USB
Program System and Software Compatibilit: Ucancam V9 (Type 3, Artcam, Jingdiao, Mastercam Et
Working Dictate: G-Code
Cutting Thickness: Mild Steel 3-32mm, Stainless Steel 6-25mm, Alumini
Transporta Pako: Plaĉa Kesto
Specification: CE standard
HS-Kodo: 8456100090
Modelo
plasma tranĉmaŝino
Laboranta grandeco
1300x2500mm
Repeat positioning accuracy
± 0,05mm
Vojaĝanta rapido
0-24000rpm / min
Tranĉanta rapideco
10-15m / min
Transdona modelo
Ilaro rako veturado
Transdona sistemo
X,Y Taiwan Hiwin high-precision,zero clearance
increased linear guide+ rack
Tranĉa sistemo
Pekina Stuart tranĉanta sistemo (angla)
Ŝoforo
Ray-plugilo kondukas 860
(Sino-us joint venture large drives
Plasma elektroprovizo
Imported US Haibao or Domestic Huayuan
Tranĉanta dikeco
0-30mm
Cutting type
Plasma/oxy-acetylene or propane
Enira tensio
3 phase,220v/380v±10%
Mode of file transfer
USB-Interfaco
Gvida maniero
Kvadrata fervojo importita
Tabla tabulo
Ŝtala klingo vidis dentan tablon
Straight line positioning precision
± 0.2mm / 10m
Straight line repeat precision
± 0.3mm / 10m
Environmental temperature
-5 ~ 45 ° C
Humideco
 <90% No concreting
Oftaj Demandoj
---
1) This is the first time I use this cnc plasma deep cutting machine, is it easy operate?
There are english manual or guide video that show how to use machine.
If there is still have any question, we can talk from phone or skype.
2) If cnc plasma deep cutting machine arranty period if the plasma cutting machine have any problem.
Free after-sales service life for machine, please feel free contact us if your machine have any problem.
we will give you 24hours service from phone and skype or go to your home for after-sale service
3) MOQ ?
Our MOQ is 1 set cnc plasma deep cutting machine. We could send machine to your country port or your factory directly, please tell us your port name or your detailed address. There will be best shipping freight and machine price send to you.
---
1.1 years quality guaranty, the machine with main parts(excluding the consumables) shall be changed free. Or charge if there is any problem during the warranty period.
2.La daŭra vivtenado senpage.
3. Senpaga trejnkurso ĉe nia planto.
4.We will provide the consumable parts of this plasma cutting machine at an agency price when you need replacement.
5,24 horojn enreta servo ĉiutage, senpaga teknika subteno.
6.Maŝino estis alĝustigita antaŭ liverado.
7. Nia personaro povas esti sendita al via kompanio por instali aŭ ĝustigi, se necese.
If you are not sure which machine is suitable, please tell me the following questions:
I will recommend the most suitable machine to you.
1)what materials do you want to engrave or cut?
2)what's the max size of the materials?
mini cnc plasma tranĉmaŝino
,
mini lasero tranĉanta maŝinon por vendo
,
plasmoprofila tranĉmaŝino