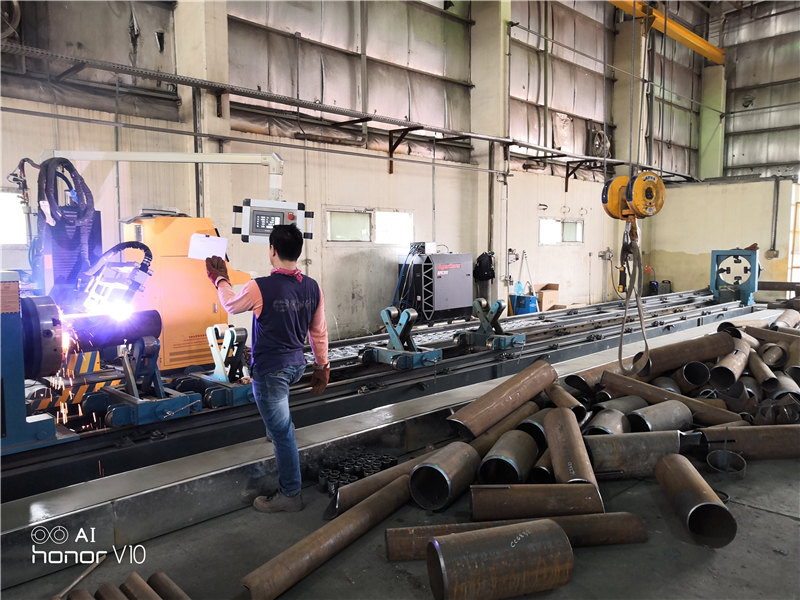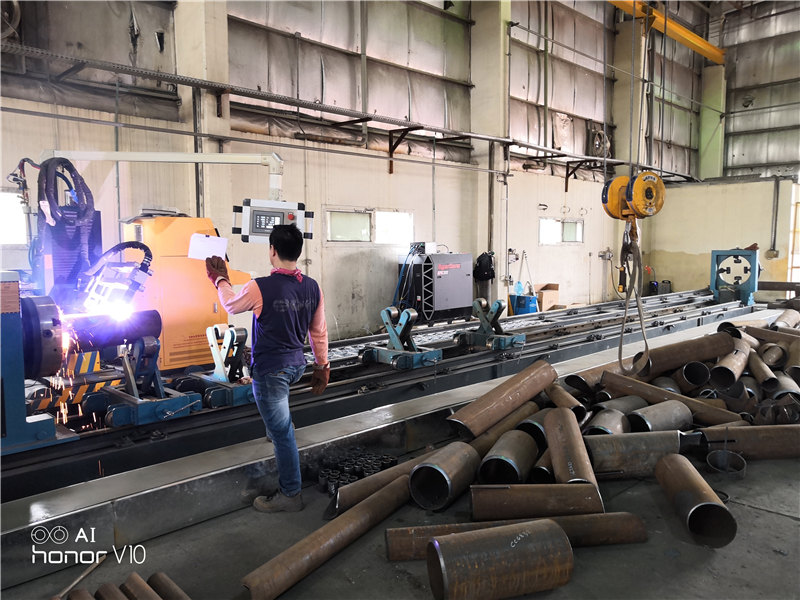 Priskribo de la produkto
---
Tuber Laser Cutting Machine From Bodor Laser T-Series
Application: It can cut pipe, squre tube, and various special-shaped pipe cutting.
Diameter for tube: 20-200mm
Cutting length: 6m/4m etc
Cutting thickness with 500W fiber source: 3mm stainless steel, 6mm carbon steel, 2mm copper, 2mm aluminum etc, 2.5mm galvanised plate etc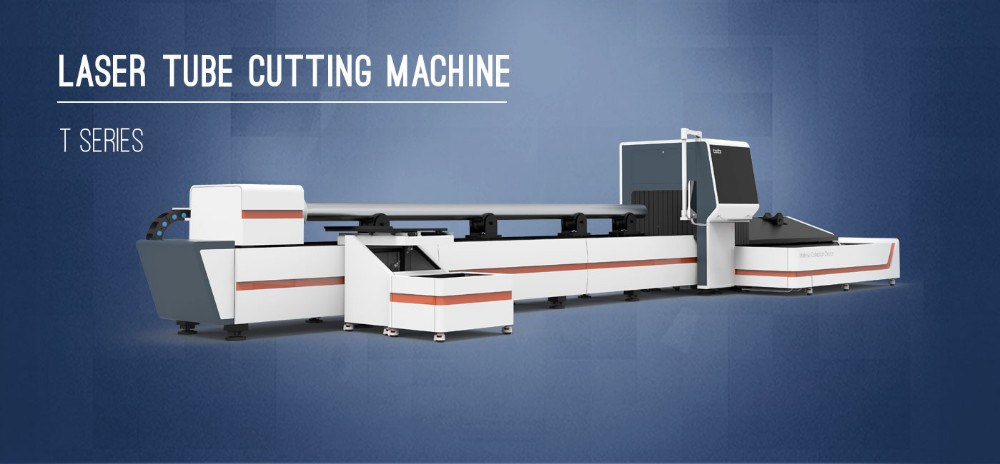 Produkta Apliko
---
Application: It can cut pipe, squre tube, and various special-shaped pipe cutting.
Diameter for tube:20-200mm
Cutting length: 6m/4m etc
Cutting thickness with 500W fiber source: 3mm stainless steel, 6mm carbon steel, 2mm copper, 2mm aluminum etc, 2.5mm galvanised plate etc.
Trajtoj
---
1. Design of double electric chucks and double servo motors, apply to cut tube as round ,square, Rectangular tube, oval tube, I-beam, etc.
2. Pneumatic rolling wheel supporting design to ensure the turning stability during cutting.
3. High-performance laser source and stable operating system that make the best cutting effect.
4. La maŝino posedas perfektan malvarmigan sistemon, lubrikan sistemon kaj polvosuĉan sistemon, por certigi, ke ĝi povas funkcii stabile, efike kaj longe.
5. The machine can be used for cutting a variety of metals with excellent and stable cutting quality.
6. With a specialized CAD / CAM automatic programming software and automatic nesting software, it is possible to maximally g save raw materials.
7. Aliro al la CNC-sistemo per Ethernet-interfaco ebligas komunikadon kaj forajn monitoradojn dum lasero-tranĉa procezo.
Parameters for  reference

Machine model

Grandeco

Garantio

Z axis height

Positioning precesion
Machine parts show
---
Fiber source
* IPG Brand Fiber Laser Source
* Stable Running Performance
*High Efficiency cutting effect
Water chiller
*S&A Brand, top brand in Water chiller
*Dual cooling function
*Cool the laser head and fiber source
Lasero-kapo
Raytools laser head
From Swiss
With high precision
Programaro
Cypcut software
1. Cypcut itself can draw easy graphics.
2. For difficult graphics, lots of software can be used, such as Mater Cam, Auto Cad, Coredraw, Type 3 etc
3. Cypcut software support.plt, .ai, .dxf,.plt,.gerber format.
4. It support English, Russian, Chinese.
5. It is easy to operate and use.
6. We have professional User Manual of this software.
Specimenoj montras
---

Service & FAQ
---
>>Try to Read This -------Our Service1. Guarantee for 3 years.
2. Prizorgado senpage dum 3 jaroj.
3. We will provide the consumable parts at an agency price.
4. 24 hours online service, free technical support.
5. Machine has been adjusted before delivery, operation disk is included in the delivery. If there is any other questions, pls kindly tell me.
6. We have manual instruction and CD (Guiding Videos) for software Installation, operation and machine's using and maintenance..
Rapidaj Detaloj
---
Kondiĉo: Nova
Loko de Origino: Anhui, Ĉinio (Mainland)
Brandnomo: ACCURL
Model Number: T6/T9
Voltage: 380V/50HZ 220v
Rated Power: 12kw 13kw
Dimension(L*W*H): 6m length, diameter: 20-200mm
Weight: 2500KGS
Certification: CE,FDA, SGS
Warranty: 3 years, 3 years
Post-venda Servo Provizita: Inĝenieroj haveblaj al serva maŝinaro eksterlande
Max. cutting speed: 25m/min
Cooling way: water cooling
Min. line width: 0.15mm
Cutting thickness: 6mm/9m
Cutting material: Metal Stainless Steel Carbon Steel Aluminum
Control system: ACCURL Pro
Max.cutting speed: 35m/min
Max.acceliration: 1.2g
Apliko: Industria Metala Tranĉado
lasero tranĉanta pipmaŝinon