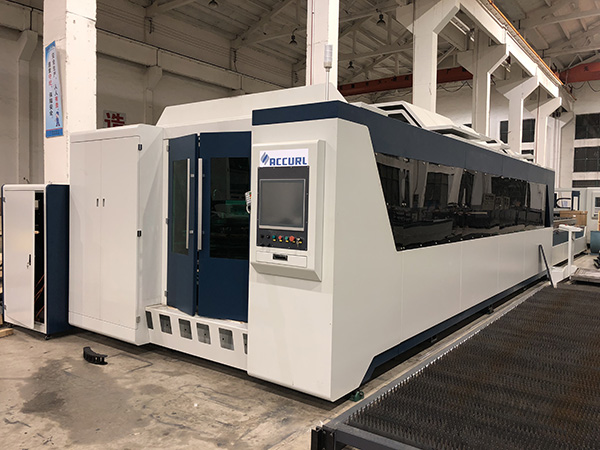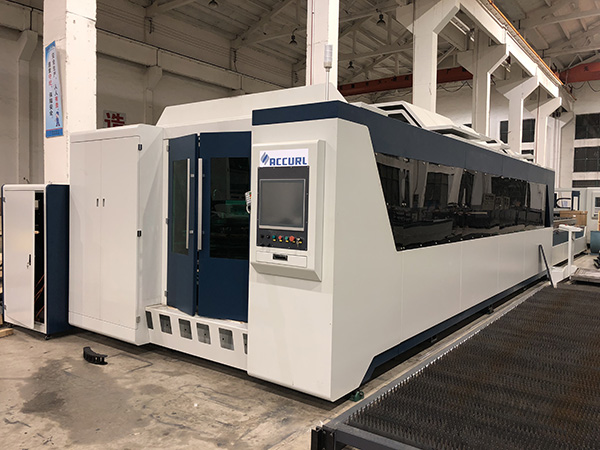 Aplikeblaj Industrioj
---
Fibra lasero tranĉanta maŝinon has been widely used in manufacture billboard, advertising, signs,
signage, metal letters, LED letters, advertising letters, sheet metal processing, metals components and parts,
ironware, chassis, racks & cabinets processing, kitchen ware, metal crafts, metal artware,
elevator panel cutting,hardware, auto parts, jewelry, glasses frame, nameplates, electronic parts, etc.
Specimenoj
---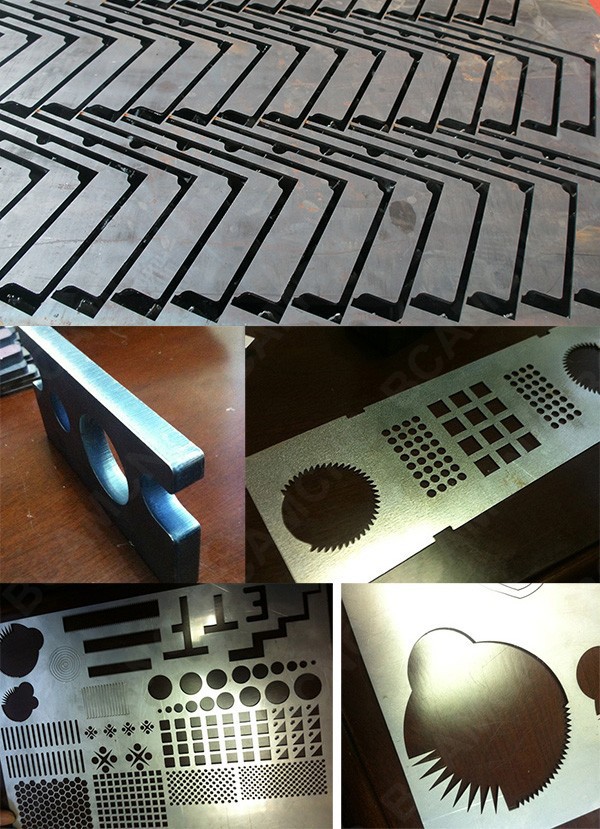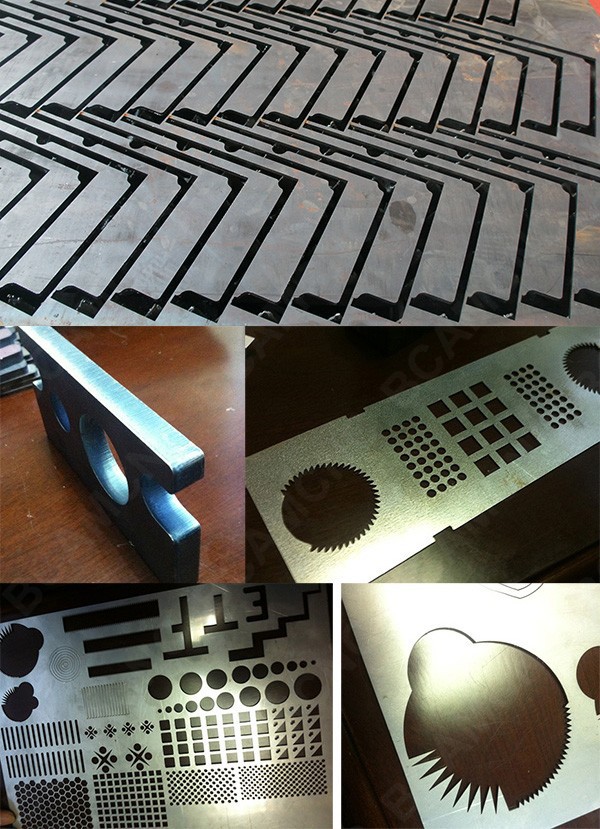 Trajtoj
---
1. The double ball screw closedloop system and imported open CNC system enable high processing accuracy and high working efficiency during high speed cutting.
2. Standard collocation of 500W fiber laser generator and optional 400W-2000W fiber laser generator ensures low operation and maintenance cost.
3. Open structure is easy and convenient for material loading and unloading.
4. Aiming at high speed cutting, we design and manufacture strengthened welded machine body after 2 times of aging process which ensures long-term accuracy and stability of performance.
5. Standard collocation of dual-pressure gas control system of 3 gas sources (high pressure air, nitrogen, oxygen) meets the processing requirement of all kinds of materials.
6. Easy operation and low cost.
7. Optimized optical lens, specially designed nozzle and sensor technology realize smoother and more stable cutting.
Teknikaj Parametroj
Laser types

Fiber laser generator
Cutting area(mm*mm)
1300x2500/1500×3000 / 2000X4000 / 2000X6000
Kontrola sistemo
PMAC full-closed loop servo control
Y axis driving mode
Double ball screw driving From Taiwan
Malvarmiga sistemo
High precision constant temperature water chiller
Laser head(standard/ optional)
BCAMCNC Laser / Precitec / Laser mech
Power supply(standard/ optional)
380V/220V
Floor space
5.6m×3.2m (shuttle working table)
Laser power (standard/ optional)
1000/300-2000W
Working table structure (standard/ optional)
Fixed working table
Positioning accuracy(mm)
0.05
Idle/processing speed(m/min)
48/24
Protection system

(standard/ optional)

Open
Format supported
PLT,DXF,AI etc
Total power(KW)
7.5/6-20
Other standard collocation
Metal nesting software, dual-pressure gas route of 3 kind gas sources, dynamic focus and remote controller, etc.
Pakado & Sendado
---
1. Standard plywood case, its compressive strength and bearing quality is better.
2. The board area is bit, the soil structure is good, it is better in leakproofness and waterproof.
3. when imported, the plywood case is with fumigation-free, the procedure is simple.
4. Delivery Detail: within 20 days after received your payment
Nia servo
---
# 12 months guarantee of the whole machine, we will provide the consumable parts at an agency price when you need replacement.
# Ĉefaj partoj (escepte la konsumeblajn) senŝanĝeblas sen problemo dum la garantia periodo.
# Programaro estas ĝisdatigita senpage tutan vivon.
# Nia inĝeniero povus subteni vian teknologion al via lando se necese.
# Nia kunlaboranto povis servi semajnfinon eĉ dum ferioj.
# Nia inĝeniero povus trejni vin en nia fabriko senpage.
# Nia inĝeniero povus servi vin 24 horojn interrete per Skype, yahoo, msn, QQ, aŭ per poŝtelefono.
# Angla manlibro kaj KD-video por maŝino uzanta kaj konservado sendos al vi per la maŝino.
In order to show you our best quality ,please allow me to introduce our quality control system as follows:
#.In the processing of production, our professional technical engineers inspect the processing to ensure the quality of products
#.Every machine must be tested before delivery for 8 hours , all of them are absolutely qualified.
#. 18 months guarantee of the whole machine.
#. Main parts(excluding the consumables) shall be changed free of charge if there is any problem during the warranty period.
#.Lifetime maintenance free of charge.
#.We will provide the consumable parts at an agency price when you need replacement.
#.Machine has been adjusted before delivery.
#.Our staff can be sent to your company to install or adjust if necessary.
Rapidaj Detaloj
---
Application: Laser Cutting, Metal cutting
Kondiĉo: Nova
Lasero-Tipo: Fibra Lasero
Aplika Materialo: Metalo
Cutting Thickness: Max 12mm mild Steel
Tranĉa Areo: 1300 * 2500mm
Cutting Speed: 72m/min
CNC aŭ Ne: Jes
Malvarmiga Modo: Malvarmiga Akvo
Control Software:Cypcut/Beckhoff
Graphic Format Supported: AI, BMP, DST, DWG, DXF, DXP, LAS, PLT, AI,PLT,DXF,BMP,DST,DWG
Loko de Origino: Anhui, Ĉinio (Mainland)
Atesto: CE, ISO
Post-venda Servo Provizita: Inĝenieroj haveblaj al serva maŝinaro eksterlande
Name: laser key cutting machines price
Mold: ACCURL1325 500W Fiber
Laboranta areo: 1300 * 2500mm
Application materials: Carbon steel ,stainless steel,metal
Driving system: Double Ball screw from Germany
cutting thickness: Max 12mm mild Steel
Laser Source: Germany IPG Fiber laser
Positioning Accuracy: 0.05mm