Detala Produkta Priskribo
---
| | | | |
| --- | --- | --- | --- |
| Modela Numero: | ECO-FIBER-1530-6KW ACCURL | Laboranta Intervalo: | 1500x3000mm |
| Lasero Tipo: | USA Raycus Fiber YLS-6Kw | Transdono: | Tajvano YYC Gear And Rack |
| Lasero-Kapo: | Svisaj Raytools Aŭtomataj | Tablo-funkciigita Sistemo: | Japana Yaskawa Serva Motoro kaj Veturanta Sistemo |
| Tuta Potenco Konsumita: | Accurl Lasero Profesia Laser-Tranĉa Programaro | Ŝlosilvortoj: | Laser Cutting Machine In Metal |
6KW Laser Cutting Machine in 16 mm Aluminyum Alloys metal with Raycus Fiber Laser Power
Enkonduko de Produkto
---
The ACCURL Fiber Lasers bring a cost effective, low-maintenance, low operating cost and environmentally friendly solution to your organization. Our fiber laser machines provide quality cutting and tolerances with minimal productivity loss between jobs, equating to a higher return on investment.
• Manufactured by people who use their own machines
• Laser beam transmitted through a fiber optic cable rather than with mirrors and channel tubing resulting in negligible power loss.
• The laser light source has a life expectancy of more than three times that of an equivalent CO2 laser.
• Pli altaj eblaj rapidoj
• Duoblaj interŝanĝeblaj tabloj permesas pli rapidan ŝarĝon kaj malŝarĝon, malpliigante malfunkciigojn
• Lasera ondolongo estas unu-dekono de CO2-lasero
• Redukto de tranĉaj variabloj aŭ tribaj scioj
• Fibra Lasero estas ekstreme efika, egalas al tre malalta konsumado
• Low cost of operation, reduced energy cost, no laser gases required to produce beam
• Alta tranĉa fleksebleco (ŝtalo, neoksidebla ŝtalo, latuno, kupro, titanio, aluminio, kaj pli)
• Very few consumables
STANDARD EKUMENTO
---
• Stress relieved laser machine frame
• Auto-changing dual pallet system
• Light source
• Chiller
• Radan or Lantek CAD/CAM system
• Precision Rack & Pinion Drive System (Made in Germany)
• 3 lower protective lenses
• 5 Nozzles each of the Following: (1.0mm, 1.2mm,1.5mm, 2.0mm , 2.5mm , 3.0mm)
• 3 Ceramic Nozzle Adapters
• Auto-calibrated nozzle system
• Lens with 5.9" Focus Length
• Smart Slag Collection System/ Chip Conveyor
• Fiber Beam Transmission System (Fiber Cable)
• Operates with both N2 and O2 (cutting) gases
• Home Position Alignment System
• Auxiliary Gas Selector
• Auxiliary Gas Pressure NC function
• Auto Reflection Warning
• Working Lights
• Warning Indicator Lamps
• Lens Cleaning Kit
• Removal and Adjustment Tools
• Ground Plates
• User Manuals in English
OPZIONA EKIPO
• Linear Drive
• Dust Collection Unit
• Additional Operator Glasses
• Lens with 7.874" Focus Length
• Sheet loading & unloading systems
• Automation & Storage systems
• Automatic Nozzle Changer
• Custom table sizes
• Up to 6 kW laser laser light sources
• Light safety barrier
• Air conditioner for electrical panel
• Metalix, Almacam etc. CAD/CAM software
• LCM (laser cut monitor) sensor for pierce detection and cut loss control
Tranĉa kapo
---
• The laser beam is delivered to the cutting head by fiber optic cable.
• The fiber optic cable is fixed to the input of cutting head.
• The laser is delivered to the focusing unit after being aligned in the collimator.
• The laser beam is set to desired focus using the lenses in the focusing unit.
• The protection glass protects the lenses from the particles which are caused by the cutting operation.
• The sensor insert is part of the elevation control system and helps to adjust the distance between material and cutting head.
• Elevation control is checked with the most precise sensors in the market. This helps to produce better cuts.
• The main function of the ceramic is to protect the cutting head.
• The nozzle is used to control the assist gases. It is also a part of the capacitive control system.
---
Mechanical platform: the cover, rails, base, composed of reflective frames and other mechanical parts;
Drivetrain: four balanced by the three imported high-precision linear guide, three high-precision ball screw, belt, three stepper motors and several gears;
Auxiliary systems: There are circulating cooling water pump, blowing compressors, smokeexhaust fan;
Optical system: a laser tube, laser power supply, three metal reflection mirrors and a focusing head component.
Avantaĝoj
---
1) Bonega trabo kvalito: Pli malgranda fokusa diametro kaj alta labora efikeco, alta kvalito.
2) High cutting speed: Cutting speed is more than 20m/min
3) Stable running: Adopting the top world import fiber lasers, stable performance, key parts can reach 100,000 hours;
4) High efficiency for photoelectric conversion: Compare with CO2 laser cutting machine, fiber optic laser cut has three times photoelectric conversion efficiency
5) Low cost & Low main tenance: Save energy and protect environment. Photoelectric conversion rate is up to 25-30%. Low electric power consumption, it is only about 20%-30% of traditional CO2 laser cutting machine. Fiber line transmission no need reflect lens, save maintenance cost;
6) Easy operations: fiber line transmission, no adjustment of optical path;
7) Super flexible optical effects: Compact design, easy to flexible manufacturing requirements.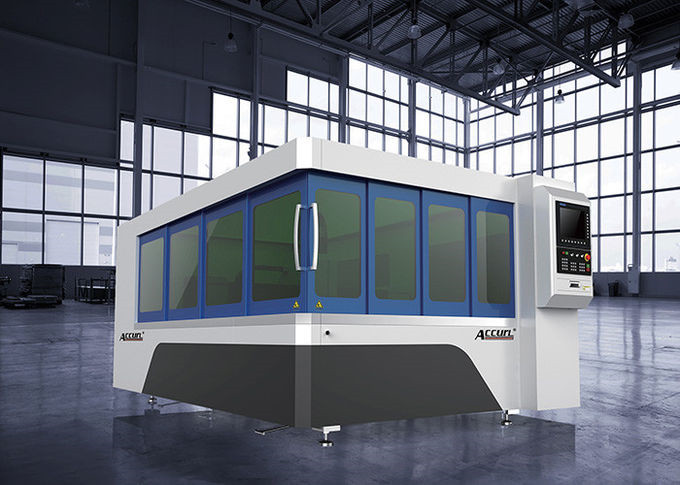 Techincal Parameter
---
Modelo
ECO-FIBER 3015 / 6KW
CNC-Unuo de Kontrolo
CNC-sistemo FAGOR 8060
X akso (Rack & Pinion)
3000 mm
Y akso (Rack & Pinion)
1500 mm
Akso Z (Pilka Ŝraŭbo)
100 mm

Maksimuma tranĉa kapablo

Mild stee
32 mm
Senrusta ŝtalo
16 mm
Aluminio
16 mm
Dimensioj de peco de verko
1525 x 3050 mm
Rapida traverso (X kaj Y akso)
105 m / min
Akcelo
2.5G (25m / s2)
Vektora rapideco
148 m / min
Absoluta poziciigado
± 0,08 mm
Ripetebleco (X kaj Y akso)
± 0,03 mm
Maksimume ŝarĝa kapablo
2450 kg
Alta Sistemo CNC-Sistemo
FAGOR 8060 de Hispana Marko
Lasera potenco
IPG YLS-6 kW from Germany
Altfara Serva motoro / veturado
FAGOR el Hispana Marko
Lasero-Tranĉa Kapo
PRECITEC el Germanio
Motoromotoro
STOBER el Germanio
kompakta lasero tranĉanta maŝinon