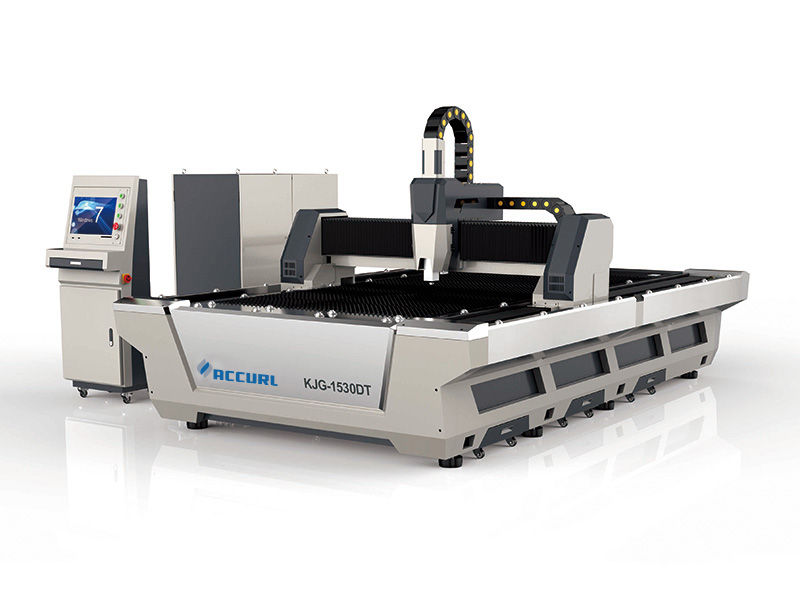 ---
1.Stability and reliability of light path system and control system
2.Imported original fiber lasers,high and stable function,lifespan is over 100000 hours
3.Higher cutting quality and efficiency ,cutting speed is up to 80m/min with appearance and beautiful cutting edge
4.German high performance reducer,gear and rack;Japanese guide and ball screw.
---
fibro lasero tranĉanta maŝinon apliko:
metal cutting, electrical switch manufacturing, aerospace, food machinery, textile machinery, engineering machinery, locomotive manufacturing, agriculture and forestry machinery, elevator manufacture, special vehicles, household appliances, tools, processing, IT manufacturing, oil machinery, food machinery, diamond tools, welding, welding gear, metal materials, decoration advertising, laser surface treatment of foreign processing services, such as all kinds of machinery processing industry.
Nia fibro lasero tranĉanta maŝinon's Application Materials:
Professional used to cut thin sheet metal, in a variety of high quality 0.5 -3 mm carbon steel sheet cutting, can also be cutting stainless steel plate, aluminum alloy plate, galvanized sheet, electrolytic plate, silicon steel, titanium alloy, aluminium zinc plate and other metal.
---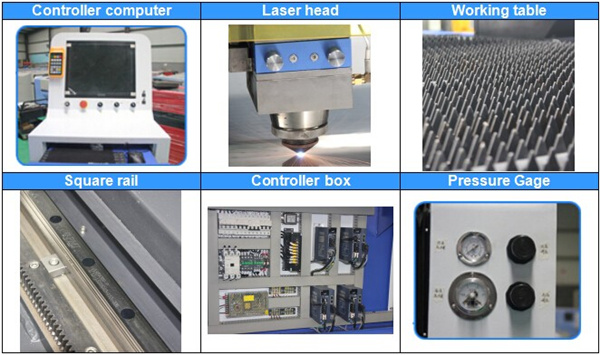 Rapidaj Detaloj
---
Apliko: Laser-Tranĉado
Kondiĉo: Nova
Lasero-Tipo: Fibra Lasero
Aplika Materialo: Metalo
Tranĉa Dikeco: 0-20mm
Tranĉa Areo: 1300 * 2500mm
Tranĉrapideco: 25m / min
CNC aŭ Ne: Jes
Malvarmiga Modo: Malvarmiga Akvo
Control Software: bechoff ( Cypcut )
Grafika Formato Subtenita: AI, BMP, DST, DWG, DXF, DXP, LAS, PLT
Atesto: CE, ISO, SGS
Post-venda Servo Provizita: Inĝenieroj haveblaj al serva maŝinaro eksterlande
Model: 1000 watt laser
Tranĉaj materialoj: Neoksidebla Karbona ŝtala Etc (Metala Lasero-Tranĉa Maŝino)
Fiber laser Generator type: Famous brand Raycus ( Made in China )
Fiber Laser cutting head: Lasermech ( From U.S. )
Motors & Drivers: 1500W Fuji servo motor made in Japan
Min. Line Width: ±0.02mm
Working life of fiber module: More than 100000 hours
Warranty time: Whole machine for 3 years (fib
---
Machine Model

2500 * 1300mm
Lasera potenco
300W/500W/1000W/3000W
Fiber laser Generator type
Famous brand Raycus ( Made in China )
Lasera ondolongo
1064nm

Lasera Kvalito

<0,373mrad
Labora Tablo
Sawtooth
Fibra Lasero tranĉanta kapon
Lasermech ( From U.S. )
Fokusa lenso
Lasermech made in USA
Labora vivo de fibro-modulo
Pli ol 100000 horoj
Motoroj & Ŝoforoj
1500W Fuji servo motor made in Japan
Redukto
3 sets from Germany
Gvidas Rails
High accuracy PMI brand from Taiwan
Transdona sistemo
Dual Rack & Pinion type
Rack system
 Germany rack
Ĉena sistemo
Igus made in Germany
Akvotubo
TEYU( S&A) brand, CW6000
Kontrola sistemo
Profesia lasero-kontrolsistemo - Cypcut

Pozicio-tipo
Red Dot
Tranĉanta dikeco
≤3mm(stainless steel)

≤6mm(carbon steel)

Maksimume Idle Running Speed
1400mm/s
Tranĉanta Rapido
300mm/s
Pozicio Precizeco
± 0,05mm / m
Pozicio Rapido
20m / min
Min. Larĝa Linio
± 0,02mm
Energikonsumo
≤12KW
Carry weight
700KG
Tensio
380V/50HZ,3PH
Helpa Gaso por tranĉado
Oksigeno, Nitrogeno, Aero
Kongrua programaro
Autocad, Coreldraw, ktp
Grafika formato
Nc
Laboranta metodo
PC control
Tuta potenca protekta takso
IP54
Maŝina pezo
About 4000KG
Machine size
4800*2600*1800mm
Garantia tempo
Whole machine for 3 years (fiber module 2 years )
Quality control of 1000watt laser

---
Quality is our sincerest respect offered to all our customers, and it is the most important factor to maintain long-term business relationships with us.
We always pay more attention to the quality of laser cutting machine. Standard quality control system and team are responsible to insure the product quality in every process with different instruments like laser interferometer and laser power meter.
In the mechanical assemble process, the laser interferometer, laser collimator, dial indicator and marble plate are used; In the laser assemble process, the laser power meter and optical microscope are adopted.
lasero tranĉanta maŝinan provizanton