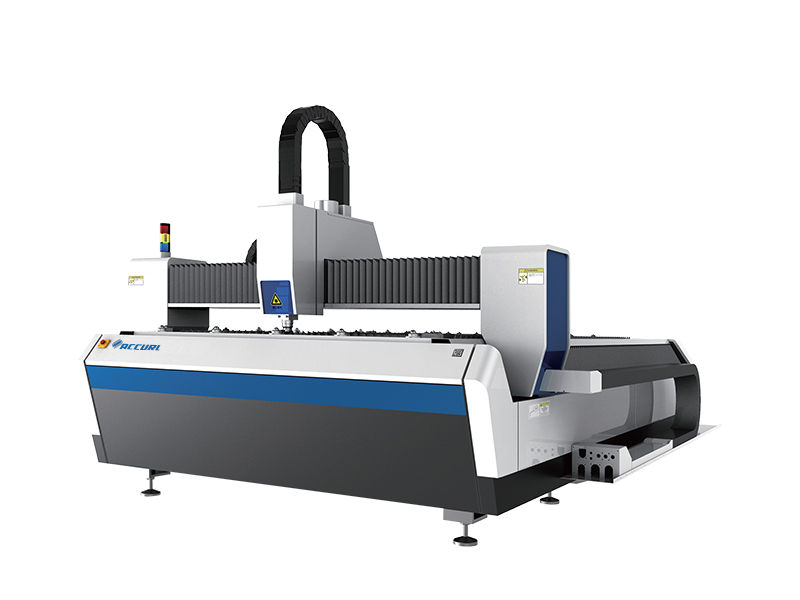 ---
Adopting World Famous Germany Dlaser Fiber laser source and USA Laser Mech cutting head & Dynamic Focus System , it can cut and punch different kind of metal material with high precision and high speed.
Since laser is transmitted by fiber, it is no need to maintenance or adjusts the laser optical path. It greatly reduces the machines fault rate and prolongs the working life.
Large format cutting area meets the demands of various kinds of metal processing.
---
1) Bonega trabo kvalito: Pli malgranda fokusa diametro kaj alta labora efikeco, alta kvalito.
2) High cutting speed: Cutting speed is more than 20m/min
3) Stable running: Adopting the top world import fiber lasers, stable performance, key parts can reach 100,000 hours;
4) Alta efikeco por fotoelektra konvertado: Komparu kun CO2-lasero-tranĉa maŝino, fibro lasera tranĉa maŝino havas tri fojojn fotoelektran konvertan efikecon
5) Low cost & Low maintenance: Save energy and protect environment. Photoelectric conversion rate is up to 25-30%. Low electric power consumption, it is only about 20%-30% of traditional CO2 laser cutting machine. Fiber line transmission no need reflect lens, save maintenance cost;
6) Easy operations: fiber line transmission, no adjustment of optical path;
7) Super flexible optical effects: Compact design, easy to flexible manufacturing requirements.
8). Adopted Original Raycus or German IPG fiber laser source: with long using life up to 150000 hours and high cutting speed up to 15m/min;
9). Japan YASKAWA Servo motor with double ball screw driving system: can make sure the cutting high precision especially comparing with the single driver system.
10). Imported World Famous "LaserMech" laser head with auto focusing height follower: which can ensure the constant same distance between the head and cutting material.
11). The cutting slot is very slim, can reach up to 0.05mm: The machine is very suitable for processing precision parts with high efficiency.
12). Automatic Lubrication System for Mechanic: which can lubricate the linear guiderail nearly 500 times per minute to make sure the high precision.
13). Convenient Collecting System: which has the special funnel design to make collecting more easy.
Aplikitaj materialoj
---
Mainly used for cutting carbon steel, silicon steel, stainless steel, aluminum alloy, titanium alloy, galvanized steel sheet, pickling board, aluminum zinc plate, copper and many kinds of metal materials cutting and so on.
Aplikitaj Industrioj
---
Aplikita en tola metala prilaborado, aviado, spaca fluo, elektronika aparato, elektraj aparatoj, subaj partoj, aŭto, maŝinaro, precizaj komponentoj, ŝipoj, metalurgia ekipaĵo, lifto, hejmaj aparatoj, donacoj kaj metioj, ilo-prilaborado, ornamo, reklamado, metala eksterlanda prilaborado. fabrikadaj prilaboraj industrioj.
---
Modelo
accurl-2513
accurl-3015
Lasera Potenco
500W
Lasera Fonto
Raycus or IPG Laser Fiber Laser Source
Laser Type
Imported Fiber Laser or Top Brand China Fiber Laser
Laser Technology
Germany Technology
XYZ Working Area
2500*1300*150mm
3000*1500*150mm

Max. Cutting Thickness

(CS)

1mm - 5mm
Max. Cutting Speed
5-15 Meters / Min (up to Materials)
Max. Location Speed
60m / min
Laser Wavelength
1070nm
Minimuma Linia Larĝo
≤0.1mm
Location Precision
≤ ± 0,05mm
Re-Location Precision
± 0,02mm
Max. Moving Speed
100m / min
Supporting Format
PLT, DXF, BMP, AI
Power Demand
380V/50Hz
Malvarmiga Vojo
Akvotrinkado
Worktable Max. Load
1000KGS
Transmission Method
Ball Screw Transmission
Table-Driven System
Japanese Imported Panasonic Servo Motor & Driving System
Focus Method
Following and Automatic Adjust Focus
Control Method
Offline Movement Control
Control Software
Perfect Laser Professional Laser Cutting Software
Rapidaj Detaloj
---
Apliko: Laser-Tranĉado
Condition: New, New
Lasero-Tipo: Fibra Lasero
Applicable Material: Metal, carbon steel, silicon steel, stainless steel, aluminum, titanium
Cutting Thickness: 1-12 m (carbon steel)
Cutting Area: 2500*1300mm
Cutting Speed: 5-14m / Minute
CNC aŭ Ne: Jes
Malvarmiga Modo: Malvarmiga Akvo
Control Software:Perfect Laser Professional Laser Cutting Software
Graphic Format Supported: AI, BMP, DXF, PLT
Loko de Origino: Anhui, Ĉinio (Mainland)
Brandnomo: ACCURL
Atesto: CE, ISO, FDA
Post-venda Servo Provizita: Inĝenieroj haveblaj al serva maŝinaro eksterlande
Dimension(L*W*H): 4.62*2.8*2.2m
laser power: 200W
Max. Moving Speed: 100m/min
Warranty: 24 months
Transmission Method: Ball Screw/Gear Rack Transmission
Table-Driven System: Japanese Imported Panasonic Servo Motor & Driving System
location precision: ±0.05 mm
cooling system: water cooling
function: metal cutting
---
lasero tranĉanta maŝinajn produktojn